We pose coherence as the antithesis of and antidote to fragmentation. 
Fragmentation is the lack of integration, coordination and collaboration. It occurs within and across organizations and systems. In fragmented systems, by the time potentially high impact policies and initiatives come down from the statehouse to the schoolhouse, many educators in schools do not understand (or have not heard) an inspiring vision and theory of action for how the major reforms will translate into concrete changes in practice, culture and process for schools and, ultimately, outcomes for students. Unable to see how the reforms are related, beneficial or feasible, many educators disengage, saying "this too shall pass." The result? Confusion, alienation, inefficiency and lackluster results.
When policy designers and implementers fail to consider the implications of independently developed policies, programs and offices' directives to schools, it's left to teachers and principals to make sense of the reforms and connect the dots among multiple expectations: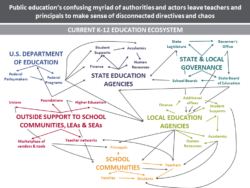 While fragmentation is to some degree rooted in the structure of K-12 public education in America, in which governance and decisionmaking rest in many bodies, the problem of fragmentation is greatly exacerbated by our field's ways of working—which are ill-suited for improving a complex social system.
Fragmented and inequitable education systems are a product of design. They can be redesigned. 
When applied to the work of systems in public education, we believe that coherence results when the work of the system is grounded in equitable ways of thinking and working, the components of the system are logically connected, and the people within the system share a unified focus and purpose. In a coherent and equitable system, system leaders and those closest to students come together to transform how they communicate, design policy and change behaviors to enable a coherent, coordinated, consistent and streamlined policy-to-practice experience for teachers and principals: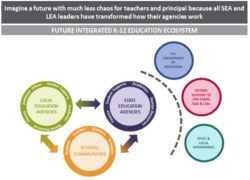 The Coherence Lab Fellowship was formed because coherence between SEAs, LEAs and schools is critical for successful policy implementation. Why does coherence matter? For several reasons:
Collaborative efforts drive a cohesive strategy:

Effective cross-agency integration, including routinized structures and processes, incentives, and capabilities translates to less fragmentation.

Authentic engagement produces long-term returns:

Engaging educators and communities early and often can help LEAs and SEAs consider motivations and interests that will support, and not hinder, implementation.

Adult learning impacts implementation:

Incorporating knowledge and research about change management can improve the introduction and roll-out of current and new policies.
You can learn more by watching this video:
How Can Coherence Advance Equity?
Case Study in Coherence: Louisiana
Louisiana's approach to integrating reforms is a model for other states. When senior Louisiana Department of Education (LDE) leaders arrived in 2011, their first task was to ask teachers how implementation was going. They quickly learned that improvements in and integration of reforms were essential. In particular, teachers said LDE needed to do a better job of aligning tools and resources it created or collected to advance the implementation of the college-and career-ready standards and its new state evaluation system, COMPASS. As a result, LDE leaders developed a deliberate theory of action that empowers teachers, principals and other administrators to be involved at every aspect of initiative design and to ensure the full integration of standards, COMPASS, assessments, accountability and educator supports.
Listening wasn't enough: LDE also reorganized its agency to put teachers at the forefront. To help integrate materials that support COMPASS and standards implementation, LDE enlisted over 4,000 educators—at least one from each school in the state—to serve on the Teacher Leader Cadre. An inner circle of 100 teacher leaders from the cadre help LDE create all policies and materials. Teacher leaders share standards-aligned instructional strategies and showcase best practices with school colleagues. They also create videos that show educators how to connect instruction with standards and COMPASS; for example, the videos demonstrate how teachers and their evaluators should conduct pre-and post-observations by including voiceover commentary about how standards and COMPASS connect.
LDE has also established internal governance and decision-making structures that enable integration. Since 2011, the department's chief of staff has hosted a standing weekly meeting of all assistant superintendents and executive directors who are focused on instructional initiatives and work that affects teachers and principals. This Academic Strategy Group includes the assistant superintendents for talent, academic content and curriculum, high schools, student supports, network teams, special education, early childhood and school accountability. Each member of the Academic Strategy Group commits to collaboration. They acknowledge that it takes a different approach to work, but they put in the effort to ensure that every initiative rolled out from any individual office has gone through extensive feedback from everyone else in that group, in some form or fashion. Through these efforts, integration has become the expectation in Louisiana.