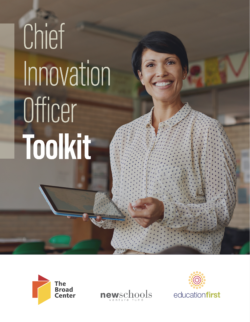 We are at a critical moment in public education in America as districts across the country address the dual challenges presented by COVID-19 and systemic racism. Education systems that were largely stagnant in the past have taken on enormous amounts of change and uncertainty, pushing past the status quo to try new things, conduct rapid feedback cycles and iterate. Although this work is important and necessary given the current moment and context, many districts find themselves struggling to balance the need for equity driven innovation and the day to day management. The Chief Innovation Officer (CIO) has the critical role of creating the right conditions to embed innovation for equity in their district, helping the district navigate today's current challenges while keeping an eye on the future.
In partnership with NewSchools Venture Fund and The Broad Center, we are pleased to announce the release of a Chief Innovation Officer (CIO) Toolkit. This research-backed toolkit is designed to help districts, and CIOs, make strategic decisions about their needs. Through research with school, policy and national leaders, we've identified four core work streams, five essential competencies and four key mindsets of a successful CIO.
Learn more about how districts can innovate for equity
---
In this Toolkit
This toolkit was developed using desk research; interviews with current and former district, policy, philanthropic and nonprofit leaders; and the experi- ences of the authors and collaborators. This process yielded four core workstreams, five essential compe- tencies and four key mindsets of a successful CIO. The toolkit also contains resources to help districts create, hire, rehire and reflect on the role and its potential for impact.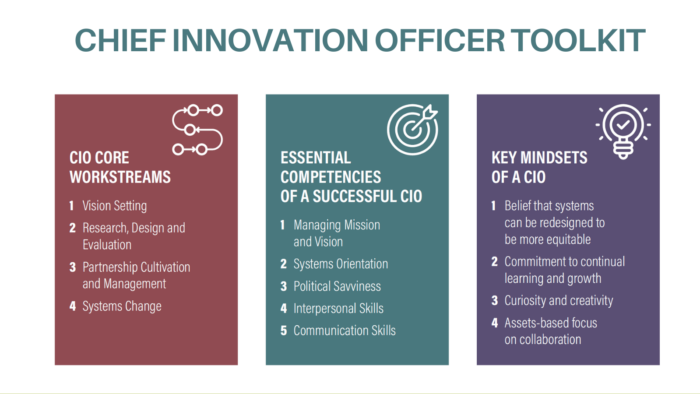 *COMING SOON* Short self-assessment: A rubric for CIOs and districts to identify opportunities for growth to expand impact
"
Now, amid radically shifting learning environments caused by the COVID-19 pandemic, CIOs' knowledge, skills, and mindsets are critical for shepherding school districts through this time of enormous change and uncertainty. As one superintendent shared, "Maybe ten years ago it was optional to have a CIO role; now it is critical and necessary."